Dr. Karen Torres
Cary, NC Dentist
Karen Torres, DDS, PA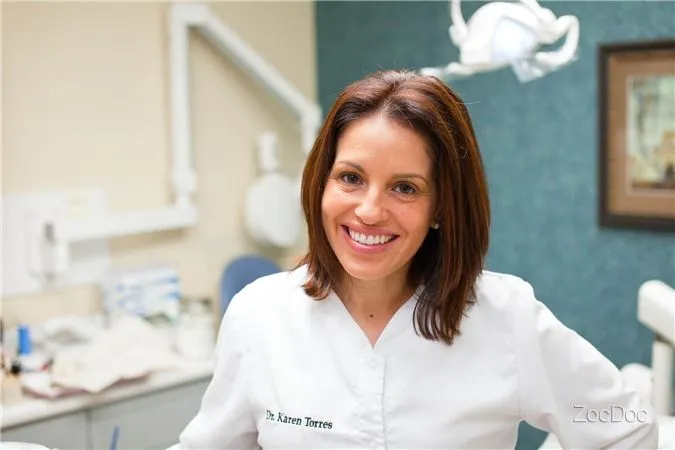 Dr. Karen Torres was born in Springfield, Massachusetts. In 1986, she relocated to the San Juan area in Puerto Rico. It was there she graduated from Antilles High School. Dr. Torres completed her Bachelor's of Biology at UNC Greensboro in 1994. In 1999, she graduated "Cum Laude" from the University of North Carolina at Chapel Hill School of Dentistry with a Doctorate of Dental Surgery (DDS).
After graduating, Dr. Torres began her dental career working for the Tri-County Community Health Center in Dunn, NC. It brought her great joy helping a community in need of dental care. After a few years there, she was given an opportunity to continue her dentistry in Raleigh, NC. Being a little closer to the school she loves, and the area she loves living in, this was a great opportunity. She started her private practice on March 5th, 2009 in the MacGregor Village shopping center in Cary, NC. Dr. Torres carefully chose staff who share in her goals and vision for the practice to give you the best dental care possible.
In 2011, Dr. Torres' husband and business partner, Chad Stall, joined the office full-time after selling his very successful ballroom dance studio in April 2011. Together, they have worked hard to bring their patients the best levels of patient and customer care. The dental practice brings a great deal of happiness to their lives. Seeing how dentistry can help bring a smile back to someone's face is the most rewarding. As a result of the outstanding service and dedication to her patients, Dr. Torres was awarded the 2014 Latin American Excelente Businesswoman of the Year Award.
After 4 years of growth at MacGregor Village, Dr. Torres saw the need to expand her practice and move to a new office location. On July 25, 2015, Dr. Torres moved her practice into a brand-new facility located in Parkway Professional Park, close to Cary Parkway and Tryon Road. Her move to the new office was highlighted recently by the NC Rural Center. However, her vision for her practice remains the same.
Dr. Torres and Chad are proud parents of a son and two cats, Vader and Sidious. They love to dance, be outdoors, travel and visit with their families.
Dr. Torres' caring personality and ability as an excellent communicator result in optimal personalized dental care. When treating her patients, her chief concern is the patient's comfort and well-being. Dr. Torres and her staff truly care for your dental health. Now that's something to smile about.
---